Being a partner of Jelastic you are provided with a wide range of additional tools and information. So not to face a problem of remembering all the needed links, now you can log in to the main sources right from your JCA panel.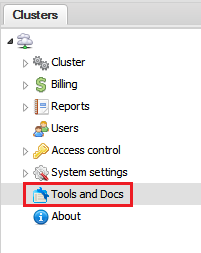 Click the Tools and Docs option to see a short description of each implemented tool:
Zendesk provides an integrated on-demand helpdesk. It is a customer support portal solution based on the latest technologies and design philosophies. This software suite enables customer support or support desk agents to receive, process, and respond to service requests.
Zabbix is the ultimate open source availability and performance monitoring solution. It offers advanced monitoring, alerting, and visualization features which are missing in other monitoring systems, even some of the best commercial ones.
Pentaho is a powerful business analytics tool. Through an interactive and easy to use web-based interface you can access analyzed and visualized data across multiple dimensions. Jelastic provides you with access to the Pentaho dashboard where a wide range of reports connected with the end-users are presented.
Graylog2 is an open source log management solution that stores your logs in ElasticSearch. Using this system you can easily view the current state of each service component, see the result of some changes made, get the logs for each component, subscribe for email notification, etc.
Except the mentioned tools, from this JCA option you can easily access Jelastic Ops Documentation.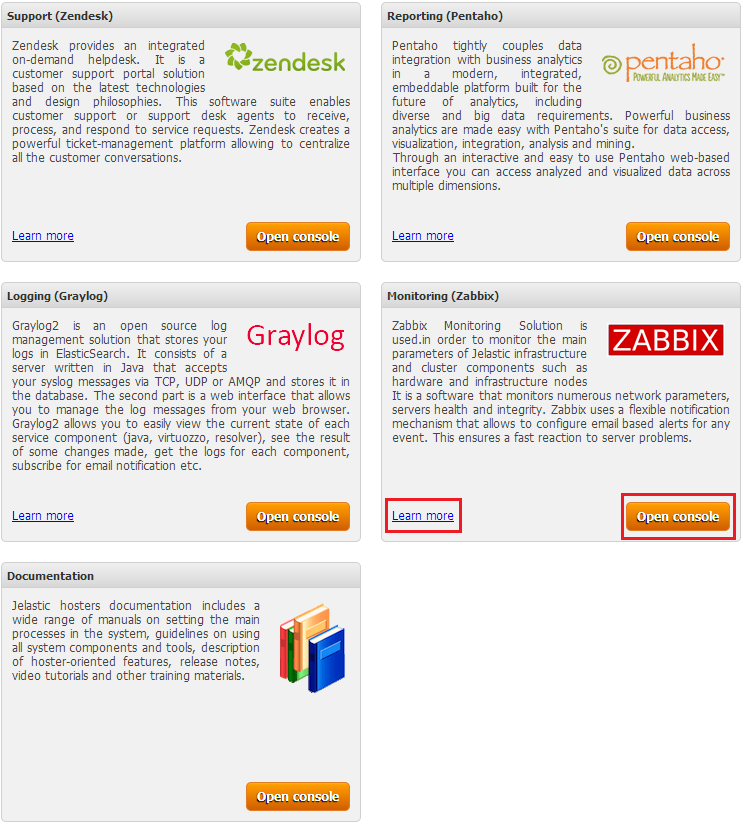 Click Open console button to be redirected to the dashboard of the chosen tool (or to the Ops Documentation).
For more information on using the tool follow the Learn more link.